Sharing Our Stories – Agriculture Kit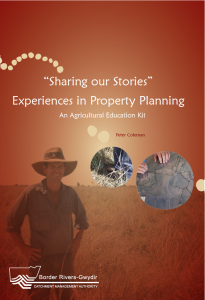 In 2011, we were asked to prepare an education resource for senior agriculture students that revolved around a DVD and booklet produced by the Border Rivers-Gwydir Catchment Management Authority. This resource, called "Sharing Our Stories – Experiences in Property Planning", was produced for landholders in the catchment and was a collation of case studies of farmers and how they have used property planning to better management their farms. The associated booklet provided details into the economics and theories around the property management planning decisions.
This education resource was developed to help teachers and their senior agriculture students to fully understand the concepts behind property planning and ultimately sustainable agriculture production.
This education kit will assist teachers in the delivery of the Stage 6 Preliminary and HSC courses. It involves an introduction to the Border Rivers-Gwydir Catchment Management Authority, property planning and natural resource management as well as activities linked to the 12 case studies from the Sharing Our Stories book and DVD. Also contained are a number of areas of study that students could use for the optional research project and elective sections of the syllabus.