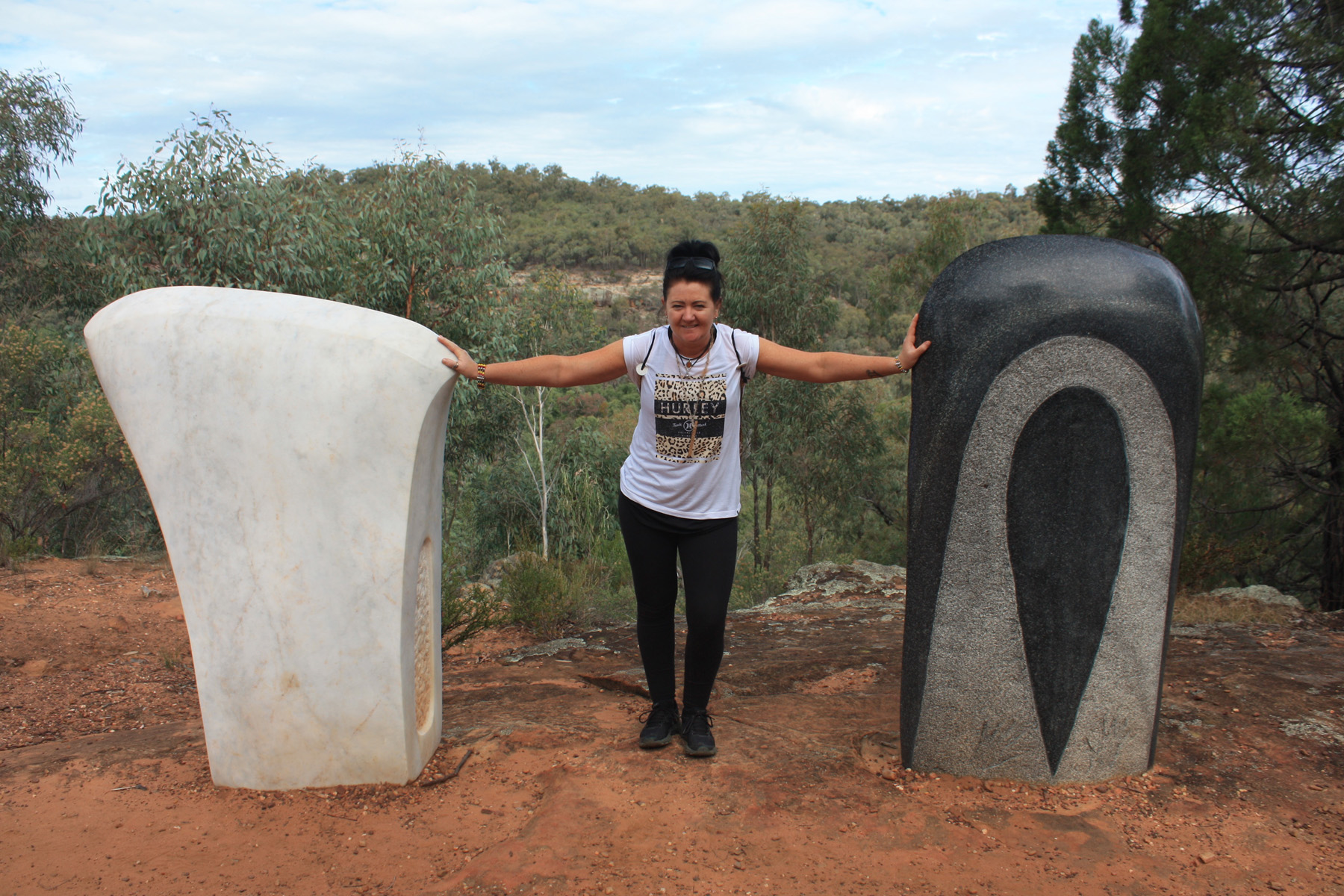 WildBlak – Visiting Cultural Sites
WildBlak: Celebrating Culture is a project between Taungurung woman Cassie Leatham and PeeKdesigns. We are privileged to be on this journey with Cassie.
A trip to the Pilliga region is not complete without visiting some of the cultural sites. We sent time out at Sculptures in the Scrub, the Sandstone Caves and we were invited to visit a very special site known only to the local Elders (the memories of which I will keep to myself).
Sculptures in the Scrub
The road out to Sculptures in the Scrub was rather bumpy with No. 1 Break Road being heavily corrugated – luckily we emptied anything breakable out of the car before we left.
Upon getting out to the car park there were already a number of cars in the carpark. The Sculptures walk is very popular with tourists and the weather was perfect for spending the time in this peaceful patch of Pilliga scrub.
As we take off on the walk, I notice Five Corners and Firey Hogs were in flower straight away – two key bush foods the Cassie has never come across before. There were quite a number of species that I introduced to Cassie after spending the past two years working on education resources in the region. This was my fifth visit to the sculptures.
The first sculpture, Scrub Spirits, is a shining symbol amongst the native scrub. Next is First Lesson, a bronze statue of a father showing his son where to look for food as he points the boomerang down towards Dandry Gorge Aboriginal Area.
"I'm blown away, speechless," said Cassie as we walked along the track.
The next sculpture Yuundu Yuundu is of two axe heads representing both the Aboriginal and European history of harvesting cypress pine and ironbark trees in the Pilliga. I take the opportunity to snap a photo of Cassie connecting the two monoliths of the sculpture as it represents both sides of her ancestry.
Connections, a Dreaming sculpture created by Badger Bates, is my favourite and instantly Cassie thinks it looks familiar to sculptures she has seen at Lake Mungo. Later on we find out that Badger had created some sculptures at Lake Mungo and that he is also a distant relative to Cassie.
"I never thought I'd find a family connection to this part of Country," reflects Cassie.
We make our way to the last sculpture – the fifth sculpture called Winanaya Gunidjarr (Respect Mother). This mosaic sculpture is close to me as I have spent the past 2 years investigating it and writing a book about the sculpture…launch date yet to be announced. As soon as I finish giving Cassie the tour of the sculpture a retired couple from Toowoomba came along the track. I end up giving them an interpretive tour while Cassie sits back having a light lunch break. The enthusiasm of the tourists to learn about the sculpture made my day as I could see the benefit this new book will be in the future. I can't wait to launch it!
Down at the base of the escarpment three bandarr (kangaroos) visit us as we 'take in' the immense rock face rising above us. What is most surprising about this entire journey has been the lack of birds around us…it is very quiet. A stark contrast to my last visit when there had been lots of rain, frogs croaking everywhere and an immense number of different bird species flying about. Nevertheless we spent a relaxing and enjoyable 4 hours at Sculptures in the Scrub.
Sandstone Caves
After a day of rest at Camp Cypress we head off on a guided tour of the sandstone caves with Jill Norton from National Parks and Wildlife Services. Hard to spot from the Newell Highway, the sandstone caves 'blow your mind' with their colours, shapes and beauty.
Having walk around and explored the caves numerous times before I let Jill take Cassie on her tour of the caves walk.
The sandstone out here is so soft that they erode quite quickly and it's incredible to think of how old that sand must be as it was laid down 150 million year ago. Today we call it Pilliga Sandstone.
There is a significant memorial plaque out along the walk. It commemorates Jill's dad, Uncle Bill Robinson, as he was the first Discovery Ranger in the Pilliga. I take a photo of Jill posing just as her dad would have when he took tours out here. It's a very special moment that chokes us three girls up a little.
Being a 'bush woman' Cassie looks at every cave, big and small, and says, "That's a Cassie hole" or "I could sleep there."
There is one hole in the caves that everyone seems to slide down like a slippery dip and sure enough as Jill and I walk around the outer rock face Cassie has slid down on her butt. Her black pants are covered in a fine layer of white silt and sand. She's a big kid at heart.
Every corner you walk around has even more impressive caves and there are plenty of 'rooms with a view'. The wind and rain erosion has left such a mesmerising effect in the stone that is hard to describe – it is a forever-changing mosaic of shapes and colours.
I feel so connected out here…I will be coming back and bringing Cassie along too!