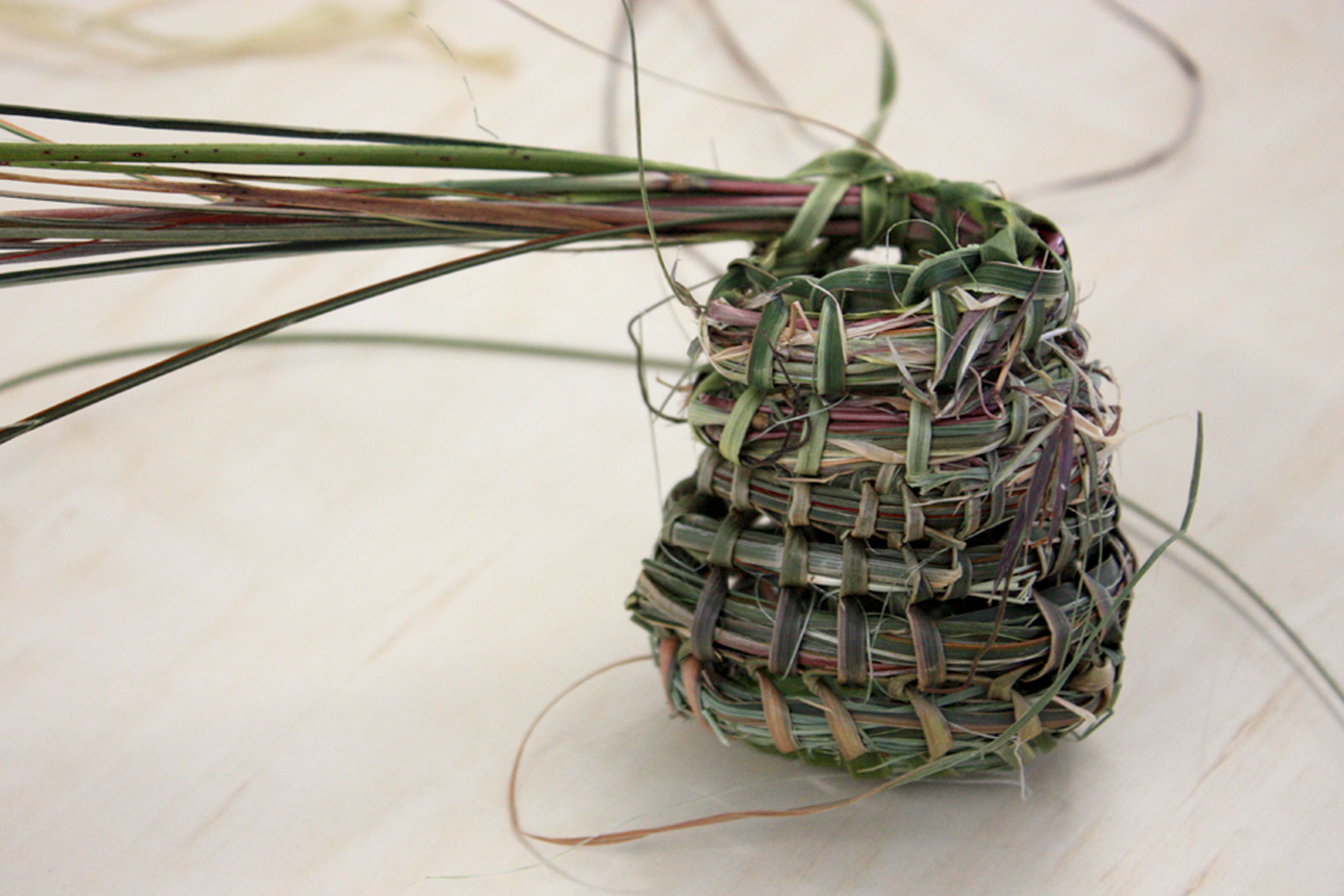 WildBlak – Baradine Weaving Circle Begins
WildBlak: Celebrating Culture is a project between Taungurung woman Cassie Leatham and PeeKdesigns. We are privileged to be on this journey with Cassie.
The initial reason Cassie was invited onto Gomeroi Country was to host a weaving workshop for some of the Aboriginal Elders in the community. Word spread and we ended up with 15 women, including four students from Baradine Central School.
We started on Murri time… a little later than scheduled, but while we waited for others to arrive, Cassie went through the materials we were to use in our weaving. She also showed everyone the different types of weaving styles that she uses to create her weaved items. The display she has is incredible and it's only half of what she normally has!
After a Welcome to Country from Uncle Merv Sutherland, and Cassie performed a traditional cleansing dance and smoking ceremony, the weaving session begins. We all grab our New Zealand flax leaves and begin to 'strip' them to make our fillers and needles for making a coil weave basket – a traditional Victorian weave that Cassie, as a master weaver, has the permission to teach others.
Like everything, some took to this very easily while others struggled a bit. Cassie's rule is "if you pick the skills up quick then it is your responsibility to help others who are struggling. This will help you remember the weave and you become the teacher."
For the youngest of our group it doesn't take long to pick up the knack of stripping the leaves and the weaving, while some of the Elders struggled a bit.
"Coil weave is the most difficult to get started and 'connect'," says Cassie. "But once they get going it is addictive and can be quite meditative."
The morning passes us by and there are lots of laughs and stories going around the room as we all compare how well, or not so well, we are going with our weaving. The young girls end up lying on the kangaroo skins on the floor…this is just what Cassie hoped would happen.
Even during the breaks, the group couldn't help themselves and they quickly got back to their weaving. It was so wonderful to see the enthusiasm in the room.
Cassie not only had all her weaving on display but also her bush spices. We were given an insight into the plants she uses for health and medicinal purposes. Even some of the men working at Camp Cypress joined in on the presentation.
The group slowly broke up as everyone ended up moving outside, taking their weaving and enjoying the warm afternoon in the dappled shade. There were more stories shared as we sat and weaved. It was so relaxing and we shared many laughs as we got to know one-another a little better.
Cassie had earlier taught the young girls how to make twine so by the end of the day they became the teachers and taught the Elders. Seeing these young girls interact with their Elders was very powerful. The Baradine weaving circle had begun.
"I was very humbled by the kindness and support from the Elders in the community here," said Cassie. "I wish others could witness this beautiful support as I'm sure a lot could learn that it doesn't matter what part of Country you're from we're all one mob, one culture and supporting one another."
The impact Cassie had on the Baradine community in just a couple of days was awe-inspiring. In the days following she had people in the street calling "Aunty Cass, Aunty Cass!" and asking if she was staying. Everyone has been touched by her enthusiasm and respect for Culture.
"Never have I ever felt so welcome in a community like Baradine," reflects Cassie. "The locals have made me feel at home. Thank you Baradine."